Breaking the Break
I'm breaking my blogging break. After a month and a half of either not posting at all, or posting short non-content posts, and after getting a few nice emails letting me know that my intended audience does actually read this (even if they don't comment), I've decided to break the break by summarizing the past few months with photos. After all, with two months worth of stuff I haven't written about, I figure that substituting a few thousand words with a few pictures might not be such a shabby idea. (By the way, almost all the links below will take you to more photos.)
So here, we go, in approximate order of both chronology and least interesting to most exciting (to me, at least):
I signed up for sailing lessons with my friend Karisia: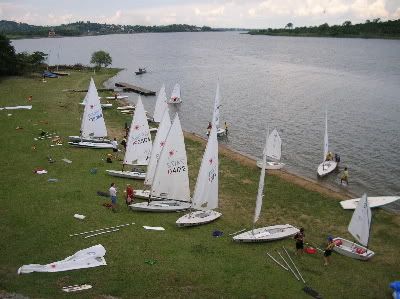 Around this time, i got this weird abscess thing in front of my ear. It hurt,but not as much as my hammy expression here would indicate: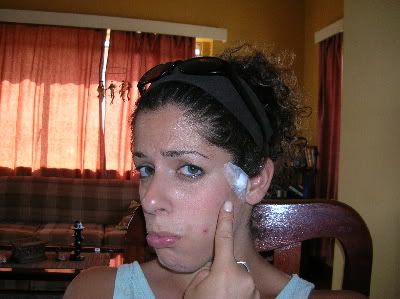 I went to a party at Bulago Island. We didn't stay at the resort, but rather were provided with transport in a gigantic green canoe loaded with one hundred people, a complete dj setup and speakers, and crates of beer, soda and water for 150 people, destined for the other side of the island where we camped. Myself and several other people felt like the boat was ridiculously unsafe, and got off before it even left the mainland. We ended up getting a lift with the guy who owns a vacation home on the island. His snazzy speedboat was a definite step up. The party was a fun time, but I don't know where the New Vision newspaper gets its information, as I don't recall it being quite like this.

The party's key educational component involved me learning about how pineapples grow: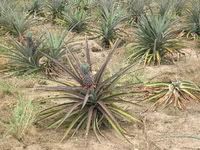 To make Educational Fruit an actual theme, i present to you what lemons look like here in Uganda. Yup, they are damn ugly.

At some point in the last month or so, Katie, Steve and Kelly came over for some drinks before we went out. Ever since then, they've been clamouring for the photos I took that night. Well, here you go: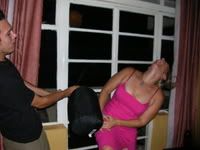 For the following few weeks, things just continued on in a nice uninteresting way. I had a splash of excitement when the Great International Secret Blog Exchange package I put together arrived at its recipient (she liked it!), and when the GISBE package sent by super-cool Stacy arrived for me here in Kampala. She did a fabulous job of reading through my blog and picking stuff I would like: a cosmo magazine, a knitting magazine, Cadbury Cream Eggs, Raspberry Milano cookies, and Burts Bees lip balm. All stuff I can't get here, and all either delicious or fun! Besides, cosmo in uganda is like cigarettes in prison - what I'll be able to barter for with it, I can't even imagine.

And then, THEN, I received the visitors I've been looking forward to for the last several months. That's right, it's what you've all been waiting for: Karin and Toby, two of my favouritest people ever, took a very slow bus from Nairobi and arrived in Kampala a couple Thursdays ago, in time for the Easter long weekend. (While i was waiting for them at the bus station, i got into an animated political discussion with some of my fellow waiting-to-pick-people-from-the-bus-ers, during which i emphatically pointed out that the the key thing hindering Uganda's development is the rampant political corruption. My best example of this is President Museveni's current efforts to change the constition to enable him to rule for a third term, which I drew as a parallel to a dictatorial move, or at least an attempt to move towards dictatorial rule. Gulp. Next time I'm going to make sure I'm not talking to a government MP before i start arguing. If i get kicked out of Uganda unexpectedly, you'll all know why. But I digress.)

So, yes, Karin and Toby are here! The first couple days here were marked with rain and errands, but as the Lonely Planet says, "Kampala's night life is something to savour", and we spent Friday night out at Bubbles O'Leary's and then at Rouge: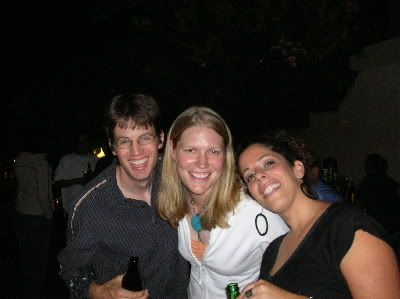 (As this photo was being taken, Toby was singing "we could be anywherrrrrrrrre!" and it's true! Look, it's us in bolivia! Look it's us in taipei! Look, its us in Toronto!", but hey, who cares, it was fun!)

Because gorilla permits were more complicated to procure than expected, we killed the day on Sunday by going to the pool at Speke Resort. After we got good and crispy under the sun, we were free to begin our trip:

The next morning, the three of us got on the BEST BUS EVAR and took off for Fort Portal:


We rotated standing in the aisle because i refused to wedge myself next to the kid with measles or scabies or whatever it was he looked like he had. I'm princess-y that way.

When we got to Fort Portal we had a quick lunch of matoke, rice, and beans. Then we continued on to a guest house in Kibale National Park, where we had headed in order to go chimp tracking the following morning. On Tuesday morning we woke up early-ish, put on the hiking shoes, and headed out to find chimps.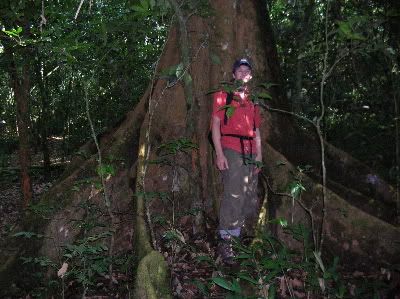 After a couple hours of hiking, we could here the chimps hooting and hollering - we were surrounded by them, but just couldn't seem see them. Finally, our guide, Gerald, led us towards a group of chimps sitting and swinging in the trees: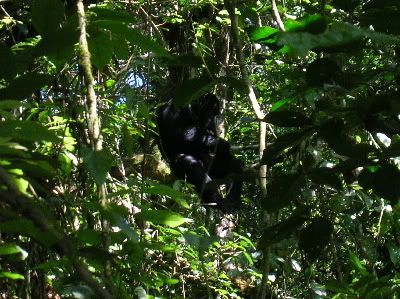 (What with dense foliage and the chaos of mating season, it was tough to get decent photos. Although I do have short video of two chimps doin' it. "hee hee".)

That afternoon we drove through some beautiful country side towards western Uganda's famous crater lakes. We shared a banda and went swimming in the tiny, breathtaking Lake Nkuruba: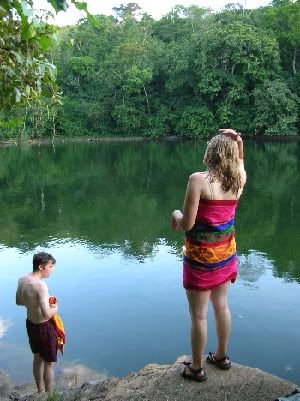 After a couple days at the lake, we split our paths, as I headed back to Kampala, and Karin and Toby headed south to Kabale and then to Bwindi Impenetrable Forest to go gorilla tracking.

The bus ride home was quite a bit more pleasant than the bus ride out, with good scenery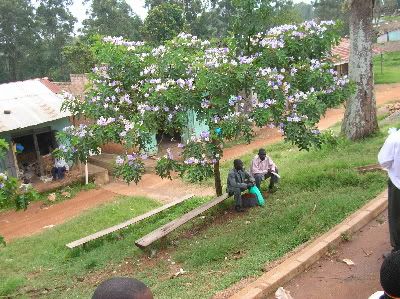 and the ever popular snack (roasted bananas, chapatis, chicken and goat brochette) hawkers crowding up to the window at stops: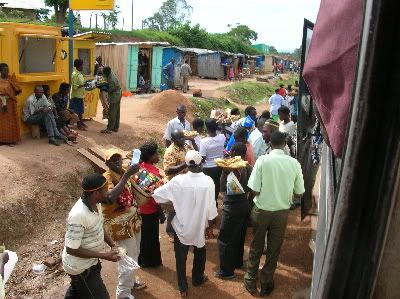 Karin and Toby are back in Kampala now, and after spending a couple days in Jinja for some rafting on the Nile, we are now planning our trip to Malawi, to depart this weekend.

Til' after Malawi!